The people speak...
According to a
new Gallup poll
released today, American's confidence in Congress has reached an all-time low. So when are all the stories going to pop up in TIME, Newsweek, and the NYT about the weakening political power of Reid, Pelosi, and Co.? Oh wait...
But here is the real interesting fact: most of the Democrat Party's usual targets rank far above them in this poll. A few examples: #1- the military, #2- small business, #4- organized religion. Even further down the lists the news seems to get worse: the Presidency, big business, and even HMOs rank higher than Congress - in fact Congress is at the bottom of the list!
from
gallup.com: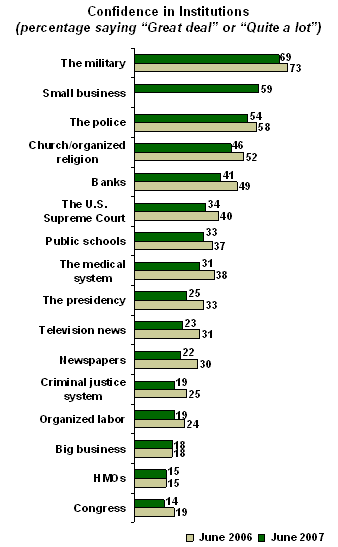 Go take a look at
the full info over at gallup.com
- it's quite interesting.